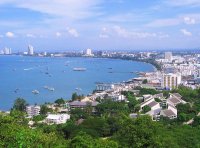 The beach & golf resort of Pattaya lies about 2 hours driving south east of Bangkok and hosts a wide variety of over 20 golf
courses. Pattaya, originally a quiet fishing town with tranquil beaches, has developed to be a very vibrant city with a busy nightlife scene and a multitude of bars and restaurants. Popular with both families and single travelers and continuing investment makes it the fastest growing region in Thailand.
Pattaya Golfing Information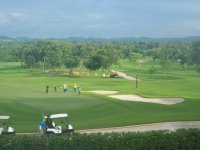 Siam Country Club, Pattaya
, one of the best golf courses in Pattaya and Thailand, has been opened for more than 35 years and is the oldest golf course in Pattaya. It is situated among breathtaking views on an 800 rai land plot only 15 minutes from Pattaya Beach, Thailand.Major renovations to the course and clubhouse were completed in May. The original layout has been preserved, but modifications were made from tees to greens to be ready to host international tournaments. The course was bulldozed and rebuilt from tee to green and edge to edge. This involved construction of new greens and bunkers, installation of new turf, expansion of water hazards to bring them more into play and gain more water storage, removal of 20-30 percent of the course's trees to allow for better air flow around greens and to reclaim playing corridors, and repaving of all cart paths. Eighteen completely new greens were built using Novatek Ultra Dwarf Bermuda Grass. In addition to replacing the greens every bunker was re-sculpted and high-flashed sand applied on all bunker faces. All turf was replaced with the salt and brackish water tolerant Seashore Paspalum, a revolutionary strand typically used in tropical and subtropical climates in coastal areas. The clubhouse has been upgraded to a modern look that offers a cozy and relaxed atmosphere to view all 18 holes.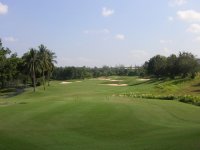 Laem Chabang International Country Club
is without doubt the leading course in the area. It actually may be the best or at least in the top 3 in all Thailand. . A fantastic Jack Nicklaus designed facility with 3 different 9 holes, named Mountain Lake & Valley are all equally challenging. Typically Nicklaus, with wide, but well bunkered fairways, there is plenty of water awaiting the errant shot. Large sloping greens also demand full concentration while putting to ensure a good score. There is also an excellent clubhouse with equally good facilities. If you have the time, order some refreshments and local snacks after your round to take in the sights and enjoy the clubhouse's excellent restaurant. All of the staff are extremely professional including the well trained caddies. This makes for a wonderful total golfing experience.
About Pattaya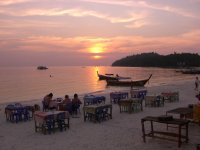 The sandy shoreline of beach resort Pattaya reaches all the way from the Mercure Hotel in the north way down to the Sunset Village Beach Resort in the south. Even in the very heart of Pattaya you will be able to find long stretches of clean and sandy beach. The General Post Office in the South Pattaya may be considered to be the centre of town, and yet less than 300 metres from it you can rent a deck chair on a beach and even venture into the waters of the Bay if you so desire.
In the north of Pattaya, close to the Dusit Hotel you will find Wong Amat Beach and Palm Beach. These pleasant beaches include long, straight stretches of sand, as well as rocky coves and coral strands. It is possible to rent boats at Wong Amat and Palm Beach, but in general these beaches are more popular with swimmers and deck chair devotees.
Speed boats, water ski and paragliding equipment is all readily available on the almost 3 kilometres of beach which runs from the Dusit Hotel to South Road. You will also find food and cold drink vendors offering their wares on the beach, but do not forget that the restaurants of Central and South Pattaya are very easy to reach from the sand.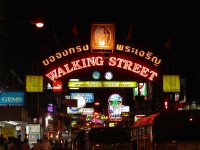 At the end of the Beach Road, which is sometimes called the "Golden Mile" there is a small beach known as Crystal Garden. Nowadays much of this beach has been taken over by the boat operators who use it to store and service their vessels. If you walk along the beach, heading south, you will eventually arrive at the Royal Cliff Beach Resort Hotel. Pattaya's main fun beach is at Jomtien. It is rather a long walk from downtown Pattaya to Jomtien, especially on a hot day, and so it is advisable to make the journey in a baht bus. En route you will pass Pattaya's imposing new 240 meter tall Tower at Pattaya Park. If you want to get a great, bird's eye view of all of Pattaya's coast and beach line then simply take the high speed elevator to the observation levels at the Tower and all of Pattaya will be yours to view and admire in comfort.
Jomtien Beach runs for a distance of about 5 kilometres. At the Pattaya end of Jomtien you will find the biggest crowds and the most facilities. Further south it is very peaceful, though there are less entertainment available. Just about everything beach lovers can desire will be found at Jomtien. It goes without saying that snacks, cold and hot drinks and even full meals can be purchased at your deck chair.
Wandering sales people will also offer you a huge variety of goods, ranging from suitcases to kites, and from wooden elephants to newspapers. You tired and weary old body can be revitalized by the skilled hands of massage ladies and men. The cost of such services is very reasonable
Whilst most people are happy doing the obvious things there are to be done in Pattaya, it would be a pity to be so close to some of the finest works of art, religious sites, historic places and specialized attractions not to see at least a few of them.
Pattaya is the centre for numerous half and full day trips and overnight sightseeing excursions. Finding one to suit you will be no problem. As a matter of fact, the difficulties will be whittling the list down to manageable proportions. The following tourist attractions are only a start.
Attractive new zoo and crocodile farm with lots of crocodiles, also tigers, camels, deer, etc. Other facilities include: restaurant, ice cream bar and souvenir shop. Open Daily : 09.30 AM. – 06.00 PM.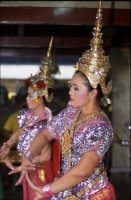 Thailand first wonder displaying
Thai heritage
on a miniature scale, bring together more than 100 models of important are objects and historical sites throughout the Kingdom, from Sukhothai to Ayuthaya and Rattanakosin periods blended with today's prosperity. The village shows elephants displaying forestry skills, playing football and re-enact of war elephant parade. The village also demonstrates how wild elephants were captured in the northeastern part of Thailand. Daily show time is at 14.30 P.M. The village is set in a 600 acre beautifully landscaped park. It features orchid nurseries, a cactus garden and a man made lake. They have daily cultural shows that include numerous folk dances, traditional ceremonies, sword fighting, cock fighting, and Thai boxing demonstrations. And of course, there is a elephant show. The village has 2 restaurants and sells crafts from northern Thailand.
Between South Pattaya and Hat Chom Thian, is a water amusement park with water slides, whirlpools and large pool for children. Open from 9.00-18.00 hrs.
45 minutes offshore by tourist boat or 15 minutes by speed boat, is the largest of Pattaya's archipelago. Major attractions include viewing coral reefs from glass bottomed boats, snorkelling, scuba diving, wind-surfing, skiing and parasailing. There are a lot of seafood restaurants on the island's main beaches. Deep sea fishing can be arranged to Ko Lan's neighboring islands such as Ko Khrok and Ko Sak. Beyond Ko Lan for another 40 minutes sail is Ko Phai, an island currently under the care of the Royal Navy. Visitors are not allowed to stay overnight here, but it has fine deserted beaches that are open during the day.